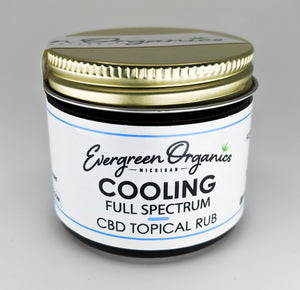 2 oz Cooling Topical Cream - Full Spectrum, contains over 1000mg of Total Cannabinoids
Product Description: Our Full Spectrum Cooling Topical Cream nourishes and moisturizes the skin with organic oils and butters. Organic Menthol is used to give our Cooling Topical Cream a cool stimulating sensation with the added benefits of over 1000mg of Total Cannabinoids. Our Full Spectrum Hemp Extract (High in CBD) is derived from our own ecologically grown Michigan hemp. We take great pride in using simple, natural, and organic ingredients in our CBD topical creams.
Why use topical CBD cream? CBD topical cream can be applied directly to an area of discomfort providing faster targeted relief. 
Ingredients: Shea butter*, Cocoa butter, Coconut oil*, Menthol Crystals*, Essential oils (Lemongrass)*, Rosemary Extract*, and Full Spectrum Hemp Extract**. This product is only for external use. Certified Organic*, Ecologically Grown** (All of our products are Vegan, Cruelty Free, GMO Free, and Bee Friendly) All of our Hemp is Ecologically Grown in Michigan.
Lab Results: (56 grams / 2oz Container)
Total CBD: Approximately 880mg 
Total Cannabinoids: 1000+mg 
Suggested use: Apply a small amount of our CBD Cream to desired areas. Be sure to massage the product into skin thoroughly. Apply more CBD cream as needed. Using our topical CBD cream daily will provide best results. 
Storage instructions: Store your CBD topical cream in a cool and dry place, avoiding excessive light, heat, and moisture. 
Purity & Potency: All of Evergreen Organics Michigan's CBD topical creams are 3rd party lab tested. We test all of our CBD products to ensure potency ad purity. Cannabidiol (CBD) is unregulated through the United States Food and Drug Administration. This is why it is critical to check for 3rd party testing on all CBD products. It is wise to avoid any CBD company that cannot provide 3rd party lab testing. At Evergreen Organics Michigan our hemp is grown right here in Michigan by us. We use ecological farming practices to sustainably produce our hemp. Our CBD oil contains ZERO pesticides, herbicides, and is non-GMO. We source only the highest quality natural and organic ingredients for our CBD creams. We ensure all of our CBD products are well above the milligrams listed. Our CBD products contain <0.3% THC and are non-psychoactive. Our CBD Oils and CBD Creams are some of the highest quality on the market and we cannot wait for you to feel the difference!